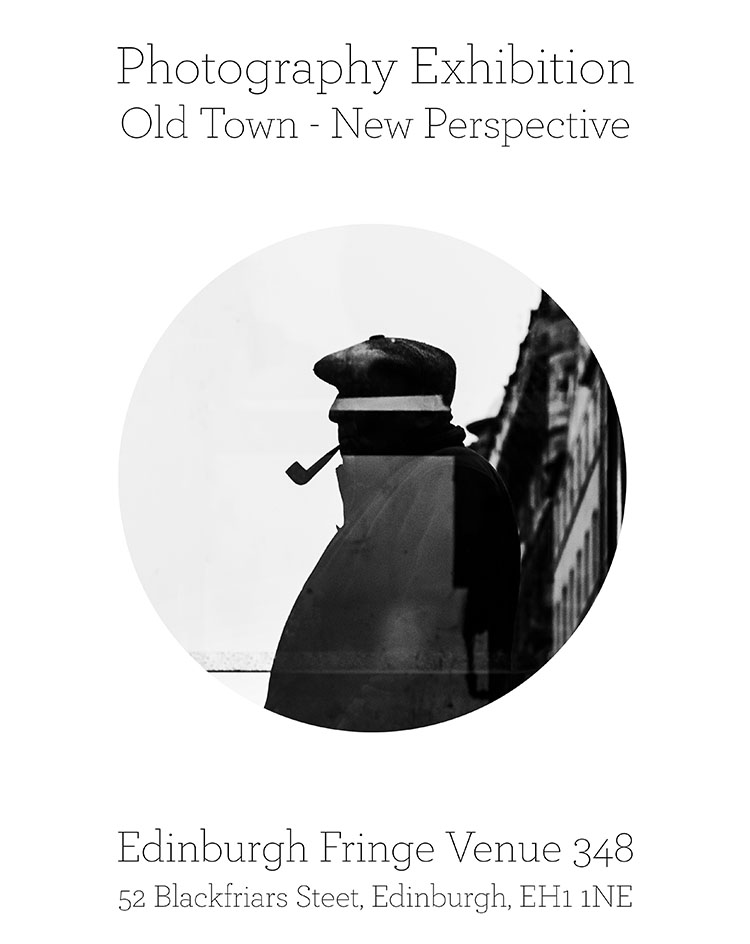 Old Town –
New Perspective
Fringe Exhibition 2023
Old Town- New Perspective, is a collection of contemporary photographs taken by Ewan Barry and Audrey Pinard.
Introduction: Over the last year we've continued our exploration of the area surrounding our Blackfriars Street studio, the Cowgate and Canongate in particular. It's a record of things we've come across on our day to day movements in a relatively small area of the city, either travelling to and from the studio or on our photographic tours of the Old Town.
Print Guide:
101. Informatics Forum".
102. Stevenlaw's Close/Tron Square
103. Cowgate from Hastie's Close
104. Pigeons, Nicholson Square
105. High Street Bus Stop
106. Edinburgh Castle reflection, Lady Wynd
107. Magdalene Chapel
108. National Museum of Scotland
109. Shop Window, Grassmarket
110. Painted Panels, St Cecilia's
111. Morris Oxford, Cowagate
112. Bus Stop, The Mound, Edinburgh
113. Taxi, Blackfriars Street 
114. Silhouette, Stevenlaws Close
115. Ghost Sign, Upper Bow
116. Waverley Station
117. Hat Shop reflections, Cowgatehead
118. Castle reflection, Candlemaker Row
119. Torn poster, High Street
120. Torn poster, Cranston Street
121. Torn poster, Niddry Street
122. Torn poster, Cowgate
123. Torn poster, Lothian Steet
124: Torn poster, Nicholson Street
125. Shadow on Parliament 
126. Empty Shop Doorway, Nicholson Street
127. Figure in the Cowgate
128. Argyll House
129. Blackfriars Street Car Park
130. Iain, Niddry Street
131. Cowgate
132. New Calton Burial Ground/Arthur's Seat
133. Old Town reflections, House of Gods
134. Royal Yacht Britannia
135. Canongate/St John's Street
136. Tenement stairwell
137. Calton Hill/North Bridge
138. Surgeons Hall/Cowgatehead
139. The Vennel/Tron Square
140. Cowgate/Cranston Street
141. Cowgate/High Street
142. Iain, small medium and large
143. Lith Print, Craigs Close
144. Toned cyanotype, Grassmarket
145. Salt Print
PRINTS ARE AVAILABLE FOR SALE
Other sizes can be printed to order, please ask for details.
PRINT PRICES:
B&W prints:
(print only, without frame – £35.00)
with mount and 40×40 cm Matt Black Aluminium Frame – £95.00
A2 torn poster prints, unframed: £35.00
Torn poster prints are also available to order on Hahnemule photo rag and German Etch paper: A3 £55.00 / A2 £75.00
Cyanotype Images with mount and 40×40 cm Matt Black Aluminium Frame £105.00
Print Only – £45.00
C-Type Copies of Polaroid Images in A4 mount £15.00
6×4 inch Traditional C-type print with mountt – £15.00
Edinburgh Posters – £7.50
Exhibition Poster – £5.00
We also organise Photography WalkingTours of the city which take in some of the
locations shown in the exhibition. Please ask for details.